Waygate Technologies Webinar: See the Difference: UT Probe Comparison
October 9, 2020
Waygate Technologies Webinar: See the Difference: UT Probe Comparison
The performance of an ultrasonic (UT) probe is critical to accurate asset inspection. Factors like quality and reliability shouldn't come into question … they should come standard. Backed by three quantitative probe characteristics—ringdown, pulse length and sensitivity—this comparative analysis from two Waygate Technologies' experts will demonstrate the excellence of three of our probes when assessed against the leading competitors' counterparts.
Register today and you'll meet Eric Klaben, who manages the Waygate Technologies UT portfolio, along with Rick Cahill, an ASNT Fellow and a contributing member of the working group that developed ASTM E-2491: "Standard Guide for Evaluating Performance Characteristics of Phased-Array Ultrasonic Examination."
Key take-a-ways:
Competitive Benchmarking
CTQ's for Manufacturing
Discover how Waygate Technologies compares to their largest competitors

MSW-QC Style Angle Beam (Gamma Series)
Type F Fingertip Contact Probe (Alpha Series)
RHP Straight Beam (Gamma Series)
Eric Klaben
Senior Product Manager –
Waygate Technologies, a Baker Hughes business
Eric Klaben manages the Waygate Technologies ultrasonic probes portfolio. He has more than 10 years of experience in various roles in manufacturing, engineering, and product management of piezoelectric sensors for the automotive, aerospace, medical, and oil & gas industries. Eric has a Bachelor's Degree in Mechanical Engineering from the University of Buffalo.
Rick Cahill
Consulting Technologist – Probe Engineering –
Waygate Technologies, a Baker Hughes business
Rick Cahill has 40 years of experience developing and manufacturing industrial ultrasound products. During this time, he has fulfilled roles in UT probe engineering, UT and ET NDT training, probe product management, and probe engineering and applications lab management. In his current role, Rick works with Waygate Technologies' probe manufacturing sites on continuous improvement. He is an ASNT Fellow and a contributing member of the working group that developed ASTM E-2491: "Standard Guide for Evaluating Performance Characteristics of Phased-Array Ultrasonic Examination Instruments and Systems."
Zetec Introduces Surf-X Eddy Current Array Probe Family, Delivering Breakthrough Inspection Versatility and Speed
July 8, 2019
Zetec has introduced the Surf-X family of eddy current array probes, with a unique flexible circuit design and proprietary X-PROBE coil technology that allow each probe to easily conform to numerous materials, shapes, and geometries for inspection applications in aerospace, oil and gas, power generation, and more.
A key advantage of the Surf-X array probe family is the highly flexible design featuring interchangeable multiple coil sets. With Surf-X array probes, users in the field can change a coil set in less than a minute, enabling the probe to easily adapt to different materials and surface geometries. Surf-X array probes offer a highly versatile, detachable encoder that can connect in multiple locations on both the handle and electronics module, providing maximum versatility when it comes to dealing with multiple positions as you probe.
This innovative design offers breakthrough inspection efficiencies. The Surf-X array probe's electronics module connector, cable and detachable encoder can be used interchangeably across different coil sets for material cost savings. With subsequent Surf-X array coil set purchases, the module, encoder, and cables can be re-used, saving time and money.
"Surf-X array probes are easy to use, extremely efficient, and can reduce inspection time by up to 95% versus pencil probes," said Bill Ziegenhagen, Zetec Eddy Current Probes Product Manager. "The innovative design truly delivers an inspection advantage."
Surf-X array probes are available in multiple interchangeable coil sets including:
SURF-X Weld Array Probe: This set combines +point coils to find indications in weld toes while array coils test the remaining weld and heat-affected zones, like shipboard T and Butt welds.
SURF-X Flex Array Probe: This flexible probe flexes to produce detailed, accurate results across complex geometries and irregular surfaces, like rivets on curved airplane wings or the grooves in carbon steel mining drums.
All Surf-X array probe coil sets come with three wear-surface options for maximum flexibility: a no-wear surface to inspect smooth materials; a cloth wear surface for smooth or polished surfaces; and a "super fabric" for protecting array coils on rough surfaces.
A Surf-X array probe is a fast, accurate, chemical-free alternative to penetrant testing (PT) that, when used with the Zetec MIZ-21C handheld eddy current instrument, is one of the most cost-effective portable surface array solutions on the market.
Recently updated, the Zetec MIZ-21C is now a sealed unit with increased operating temperature range, increased internal memory storage, off-the-shelf battery charging, and more.
"With a MIZ-21C and Surf-X array probe, you can quickly and accurately handle virtually any eddy current test application without extra hardware, chemicals, or complex set-ups," said Ziegenhagen.
Zetec Webinar: Improve Flaw Detection in Aerospace with Eddy Current Array Technology
May 16, 2018
Zetec will host a one-hour webinar in May titled "Improve Flaw Detection in Aerospace with Advanced Eddy Current Array Technology". In this webinar, which will be focused on the new MIZ-21C and its Eddy Current Array (ECA) capabilities, we will demonstrate a solution that delivers exceptional flaw detectability quicker than most inspection options in the market today. Additionally, the webinar will showcase a solution that enables users to comfortably inspect those hard-to-reach areas that other solutions cannot.
The live webinar will be offered in two sessions:
Wednesday, May 23, from 10 a.m. to 11 a.m. PDT; and
Thursday, May 24, from 7 a.m. to 8 a.m. PDT
Learn more and register now: http://www.zetec.com/news/webinar-improve-flaw-detection-aerospace-advanced-eddy-current-array-technology/
Zetec Introduces First Truly Affordable Eddy Current Instrument with Surface Array
February 14, 2018
Zetec Inc., a global leader in nondestructive testing (NDT) solutions, today announced the launch of the MIZ-21C, the first truly affordable handheld eddy current instrument with surface array capabilities.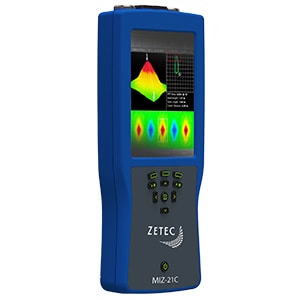 The MIZ-21C can deliver fast, accurate inspections in demanding NDT applications including aerospace, oil and gas, manufacturing, and power generation. The surface array solution can reduce inspection time by up to 95% compared to traditional handheld pencil probes. The ergonomic design, long battery life, and intuitive touchscreen mean you can inspect more areas faster than ever without fatigue.
The MIZ-21C supports a wide range of existing probes and scanners, which further extends its value. "MIZ-21C is an affordable and capable device that can go anywhere you need to go for your inspection," said Jesse Herrin, Eddy Current Systems Product Manager for Zetec. "MIZ-21C not only saves time, it opens the door to new inspection possibilities by bringing the power of surface array to places it has never been before."
The MIZ-21C is available in three models with single frequency and surface array options to meet a wide range of inspections needs and budgets.
JWJ now offers Proceq's Equotip Portable Hardness Test equipment!
November 1, 2017
We are very pleased to announce that Jess W. Jackson & Assoc., Inc. is now a representative of Proceq's Equotip Portable Hardness Test equipment.
Proceq's Equotip enables the inspection of almost any object, polished parts and heat-treated surfaces. The hardness measurements are made by using the dynamic rebound testing method according to Leeb, the static Portable Rockwell hardness test and the Ultrasonic Contact Impedance (UCI) method. The rugged Swiss-made hardness tester are designed for portable hardness testing in the lab, in the workshop, at production facilities or on site. Proceq's latest innovation is Equotip Live featuring a wireless impact device, mobile app, real-time data sharing and cloud backup.
Since Proceq invented the Leeb test principle in 1975, Equotip has become established as a globally recognized brand for portable hardness testing and a de facto industry standard. A wide range of different impact devices, as well as a comprehensive selection of test blocks and accessories cover most applications.
Zetec Introduces TOPAZ64 Ultra-Intelligent 64-Channel Phased Array UT Instrument
October 30, 2017
Zetec, a global leader in nondestructive testing (NDT) solutions, today introduced TOPAZ64, the industry's most intelligent fully integrated, portable 64-channel phased array ultrasound (UT) instrument.
TOPAZ64 combines code-compliant phased array UT with the industry's most advanced full matrix capture (FMC) and total focusing method (TFM) capabilities.
Featuring the highest acquisition frequency in its class, high resolution FMC and a 12" multi-touchscreen with best in class image quality, users can easily visualize even the smallest flaws. TOPAZ64 can generate a bipolar pulse that provides more acoustic energy versus previous models for punching through thick components. The result is a portable tool that delivers increased inspection coverage, more accurate signals, and the ability to handle all UT inspections in one package. TOPAZ64 is ideal for challenging applications in transportation, oil and gas, manufacturing and power generation.
Driven by Zetec's industrially proven UltraVision® Touch software, TOPAZ64 supports 2D matrix arrays in Pulse/Echo or Pitch/Catch modes and is capable of dual side weld inspections using two probes at the same time. With the ability to save raw A-Scan data, TOPAZ64 is ideal for record-keeping compliance or TFM post-processing without the time and cost required to rescan.
"TOPAZ64 is ultra-intelligent ultrasound," said Frédéric Laprise, General Manager, Zetec Canada and Ultrasound Business Unit. "It's an industry game-changer that offers advanced inspection capabilities in a cost-effective device for improved productivity and more accurate inspections."
With the introduction of TOPAZ64, Zetec's TOPAZ family is now one of the most complete portable, fully integrated phased array UT product lines in the industry. TOPAZ16 stands for portable value and is ideal for most common inspection applications. TOPAZ32 is a high-performance instrument for more complex inspections. The new TOPAZ64 is the most intelligent portable UT instrument, capable of handling the most challenging inspections.
Magnaflux Introduces New Stationary LED Inspection UV Lamp for NDT Pros
September 19, 2017
After consulting with numerous NDT experts and inspectors, Magnaflux is expanding their line of LED UV lamps for non-destructive testing with the ST700 overhead inspection LED UV light, which is specifically designed to eliminate or prevent some of the most common challenges around UV illumination in fluorescent NDT testing.
Speeds Up the Inspection Process
The ST700 offers the best beam-area value of any stationary flood LED UV lamp on the market with a maximum inspection area of 22 x 25 in / 55 x 64 cm with UV-A over 1,000 μW/cm2. This ultra-wide beam meets ASTM and RRES requirements for UV-A illumination so inspectors can be confident to see every indication with less part handling.
Minimize Risk of Missing Indications
Providing 7,000 μW/cm2 of high intensity UV-A light at 15 in / 38 cm, the ST700 makes fluorescent penetrant and magnetic particles stand out bright and clear for high-contrast visibility and easy detection. The high intensity LEDs allow the ST700 to be mounted up to 36 in / 90 cm from the inspection surface and still maintain UV-A over 1,000 μW/cm2.
Maximize Range of Inspections
The ST700's LED array is designed to cast uniformly bright illumination, and the stable intensity of the LEDs meets the ASTM E3022 and Rolls-Royce RRES 90061 standards. The custom UV-A filters reduce glare and increase fluorescent contrast to make indications easier to see.
Real-World Reliability
Engineered specifically for the rigors of NDT and manufacturing environments in order to reduce on-the-job downtime, this stationary floor UV light is fully sealed to prevent dust or water damage. The dependable, impact-resistant construction, along with the fan-less cooling system and proprietary, non-clouding LED lens provide reliable, consistent inspections.
Work in Comfort
With LED technology, the ST700 runs much cooler than traditional mercury-vapor lamps to help keep operators and inspection booths cool.
Zetec Surface Array Flex Probe Delivers Significant Time Savings
September 29, 2016
Zetec introduces the new Surface Array Flex Probe specifically designed to solve the inspection challenges that Power Generation, Oil & Gas and Aerospace companies face every day. It is designed to handle a range of needs, from detecting extremely small flaws to inspecting non-flat surfaces and covering a wide area in a single pass.
The Surface Array Flex Probe introduces innovative features that deliver significant benefits. With the ability to handle inspection coverage up to 2 inches in a single pass, the probe delivers fast and accurate inspections. In fact, when compared with handheld pencil probes, the new Zetec Surface Array Flex Probe can reduce inspection time by up to 95% while delivering a full record of inspection. 
The unique flexible surface design and proprietary X-Probe coil technology enable the probe to conform to surface variations such as curvatures and weld beads, where it can accurately detect pitting as well as surface cracks in any orientation. The probe's durable pad is made to last– having been tested on over 8,000 feet of weld surface without failure.
When the Surface Array Flex Probe is used along with the Zetec MIZ®-200 Eddy Current Array Instrument plus Velocity Acquisition and Analysis Software, it is a complete solution engineered to work better together.
"With one of the industry's highest signal-to-noise ratios and proprietary sensing technology, Zetec offers a top performing eddy current array solution" states Adi Askenazi, Zetec Eddy Current Probe Product Manager.
GE Updates XL Series of Video Borescopes for Remote Visual Inspection
July 11, 2016
GE's Inspection Technologies product line has announced important feature updates to the popular, field-proven XL series of industrial video borescopes.
GE's XL Vu™ Video Borescope is consistently one the industry's top-selling VideoProbes. The newest update to this popular model includes improved light output for enhanced image quality, stereo measurement, 4GB of internal memory, video output, and multiple USB ports. All of these features are available in a durable, field-ready product rated to IP55 and tested to temperatures up to 100°C.
GE's XL Lv™ Video Borescope is now available globally for the first time. This utility VideoProbe offers the still image and video quality you rely on from GE, and a generous set of features you would expect to see in a much higher-priced video borescope.
Both the XL Vu and XL Lv VideoProbes are highly portable – just 3.9 pounds (1.77kg) – and offer multiple probe lengths and diameters with interchangeable tip optics. The XL series of video probes makes reporting and archiving inspections easy with Menu Directed Inspection (MDI).
New Zetec TOPAZ16 Ultrasonic Instrument Delivers Best-in-Class Productivity and Unmatched Value
June 12, 2016
Zetec, Inc. introduces the new TOPAZ16, a 16-channel fully integrated phased array ultrasonic instrument for nondestructive testing (NDT) projects. Zetec has always had a reputation of a premier products supplier of NDT solutions. TOPAZ16 is Zetec's entry into more mainstream inspection markets. It is ideal for the most common applications including weld inspections, corrosion mapping, encoded or manual inspections and inspections of complex components. With a highly compact footprint plus proven Zetec quality and innovation, TOPAZ16 is sized for convenience and built to perform.
New Mentor UT for Corrosion from GE
April 20, 2016
Introducing GE's Mentor UT, the powerful, connected ultrasonic flaw detector optimized for corrosion mapping. Mentor UT brings the power of array inspection to everyday use with an intuitive, touch-screen interface and customizable inspection applications. Increase your inspection productivity through guided, on-device setup and calibration.